It's nearly impossible to avoid screens in our go-go-go world nowadays. With all this screen use, the risk of digital eye strain is always a possibility. Many modern devices, like our smartphones and computers, have a 'dark mode' or 'low-light setting.'
There are some instances where this mode could help lower your risk of straining your eyes. However, it can also do the opposite, so it's important to know when to use it. Fortunately, even if you do develop some of the uncomfortable symptoms of digital eye strain, it's not a vision-threatening condition.
By the end of this article, you should have a confident grasp of digital eye strain, how you can minimize the risk and its effects, and how you can prevent it.
What Is Digital Eye Strain?
Digital eye strain is also known as computer vision syndrome (CVS). It's a form of eye strain that affects individuals using digital screens, such as computers, smartphones, and TVs. It can include irritating symptoms, such as dry eyes, blurry vision, and excessive blinking. Additionally, you can experience non eye-related symptoms, like headaches and neck or back pain.
It's rare that CVS will cause severe and vision-threatening problems. But if it's left unchecked, the discomfort likely won't improve on its own. In contrast, it will probably worsen over time.
Resting your eyes and taking a break from what you're focusing on is often the best way to relieve symptoms of digital eye strain. But sometimes, it'll require treatment of a specific symptom. For example, suppose you're experiencing dry eyes as a result of eye strain. In that case, lubricating eye drops will likely be beneficial as well.
What Does 'Dark Mode' Do?
Many computers, phones, and tablets include a feature called 'dark mode' or some variation. Typically, this mode swaps the traditionally white background with a black one and white lettering instead of black.
Does 'Dark Mode' Reduce Eye Strain?
When you're looking for ways to reduce eye strain symptoms, 'dark mode' may and may not be the answer you're looking for. In a dark or dimly lit room, the dark background and white lettering can be easier on your eyes to read. And this can certainly help relieve eye strain symptoms.
But on the other hand, if you leave 'dark mode' on in a normally lit room or outside, it can actually cause your eyes to strain harder to see the screen clearly.
Another area where 'dark mode' may be beneficial is if you must use a device at bedtime. The dimmer screen and switching of colours does prevent some blue light from coming through the display.
That said, it's important to note that electronic device usage affects nearly 100% of people to some degree when used before bed, according to current research.
Additional Eye-Saving Modes
As protecting our eyes from digital devices becomes more popular, more developers release news apps to help us. You can get applications for your computer or phone that help filter certain light wavelengths, remind you to take breaks, and automatically optimize settings for viewing digital screens.
Utilizing the tools you have available and including your optometrist in your eye care journey are both keys to comfortable, clear vision.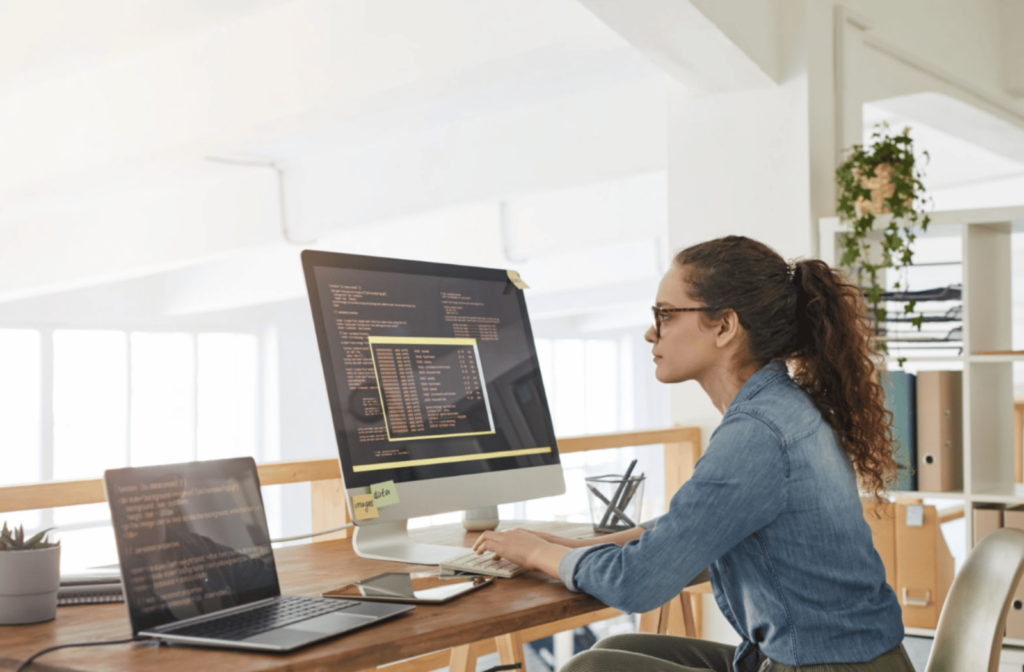 Treating & Preventing Digital Eye Strain
CVS isn't a condition that you can simply prescribe medication for. Typically its treatment and prevention revolve around lifestyle adjustments, such as rearranging your workspace, supplementing with eye drops, or taking extra breaks throughout the day.
Digital eye strain treatment and prevention options include:
Ensure your workspace is adequately lit—not too bright, but not dark.
Adjust your desk, computer, or lighting to reduce or eliminate glare on screens.
Adjust your monitor and screen settings to comfortable brightness based on room lighting.
Take more breaks throughout the day. Specifically, the 20-20-20 rule can be beneficial—every 20 minutes, take 20 seconds to focus on something 20 feet away from you.
Use a lubricating eye drop to relieve dry eye symptoms.
Position your screen approximately an arm's length away and slightly below eye level.
Focus on good posture.
Discuss Your Symptoms With Your Optometrist
If you begin experiencing some of the symptoms we discussed above, sometimes it can be beneficial to keep a basic journal. Also, you can try recording when you experience a symptom and any factors that may be in play, such as lighting or positioning. These can help your optometrist determine what changes to recommend.
Contact our clinic today if you're tired of dealing with strained eyes. Our eye doctors are available to assist you at one of our offices in either London or Glencoe.
Our professional team can answer your questions or book you an appointment with one of our optometrists to discuss symptom management.