Contact lenses are a low-maintenance alternative to glasses that feel comfortable and match your whole wardrobe. However, as invisible as contact lenses are designed to feel, if you have dry eye, it can be challenging to wear them comfortably.
With a comprehensive eye examination to get an updated prescription and a personalized contact lens fitting, you can find the most comfortable lenses for your eyes, even if they've typically been hard to fit.
To prevent dry eye with contact lenses, you need the right contact lens type, replacement schedule, contact solution, and home habits to keep your eyes hydrated during prolonged wear.
What is Dry Eye Disease?
Dry eye can indicate that your tear film is missing an important component. Your tear film has three layers:
The top oil layer stops your tears from evaporating too quickly.
The middle water and salt layer moisturize your eye and washes away impurities and debris from your eye.
The inner mucus layer helps tears cling to the eye's surface and distribute the tears across your eye.
When the tear film's mixture is disturbed, you can experience dry eye symptoms.
Insufficient Tear Production
When your lacrimal gland has difficulty producing sufficient tears, it can lead to dry eye symptoms. The lacrimal gland generates the watery second layer of your tear mixture that helps clear away debris and irritants from your eyes. Insufficient tears can cause discomfort and a gritty sensation when blinking.
Poor Tear Quality
The majority of dry eye cases are a result of meibomian gland dysfunction, known as evaporative dry eye. This type of dry eye impacts the tear mixture's top oil layer, produced by the meibomian gland. This layer is critical to help slow dehydration and stabilize the tear mixture's balance.
Can Contact Lenses Cause Dry Eyes?
Roughly half of contact lens wearers experience dry eye symptoms. Your eyes rely on an unimpeded flow of oxygen to help produce natural tears, and contact lenses can occasionally block the steady movement of oxygen. You may experience dryness when you're:
Overwearing your contact lenses
Wearing improperly fitted contact lenses
Wearing the wrong prescription
Using the wrong contact solution
It's critical to have a contact lens examination and fitting before trying contact lenses and tell your optometrist if your contact lenses are feeling dry.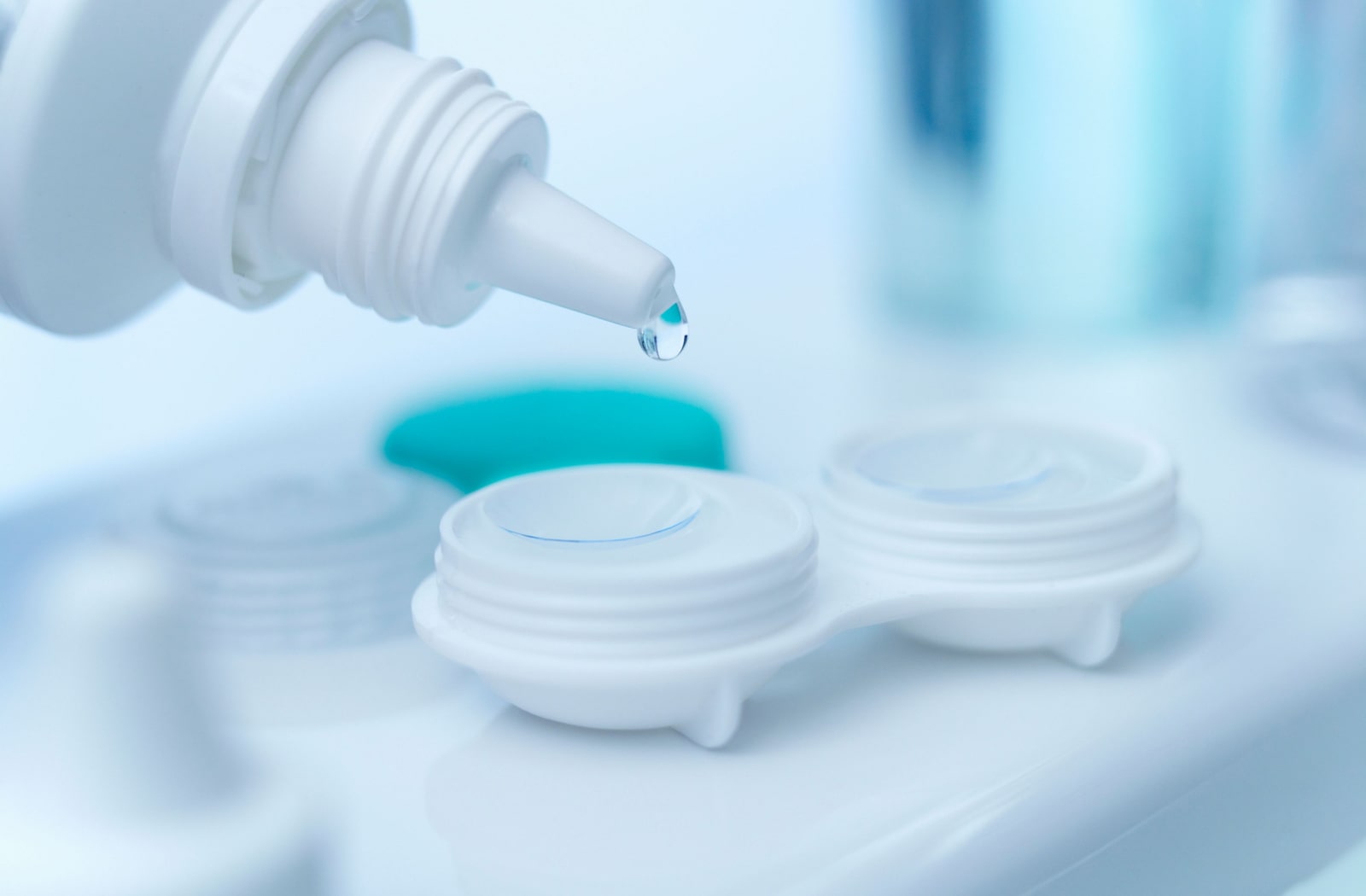 Best Contact Lenses for Dry Eye
There are contact lenses available designed for dry eyes. Lens material and type, replacement schedule, and contact solution can determine how your eyes feel when wearing contact lenses.
Soft Contact Lenses
Soft contact lenses are by far the most common lens material. They're more adaptable, and flexible, and allow oxygen to pass through the lens to promote healthy eyes. Soft contact lenses are often made of hydrogel with high water content. Silicone-based hydrogels are an alternative that slows the evaporation of your tears, which can ease dry eye symptoms.
Rigid-Gas Permeable Contact Lenses
Rigid-gas permeable (RGP) contact lenses are hard lenses that also let oxygen flow through the lens but are less affected by deposit buildup. They maintain their shape and provide crisp vision throughout wear. Your eyes may take longer to adjust to RGP lenses than soft contact lenses.
Scleral Contact Lenses
Scleral contact lenses have a larger diameter than standard contact lenses. Traditional contact lenses measure 9 millimetres in diameter, whereas scleral contact lenses measure from 14 to 24 millimetres. They rest on the sclera, the whites of the eyes, allowing the centre of the contact lens to vault over the cornea to leave a reservoir of fluid to keep the eye's surface hydrated.
Daily Disposable Contact Lenses
Dry eyes are easily aggravated by buildup and deposit accumulation on contact lenses from makeup, oils, and debris. Daily disposables, or dailies, avoid this problem through their single-use design. They're low-maintenance, as you don't have to worry about cleaning, disinfecting, and storing your contacts properly—you just throw them away.
Low Water Content Contact Lenses
It seems counterintuitive, but higher water content doesn't guarantee hydration. Those with dry eye may find that their tears evaporate more quickly and offer less lubrication. Your contact lenses will then begin to draw moisture from the tear film for moisture, drying out your eyes soon after inserting your contact lenses.
Contact Solutions
Contact solutions aren't just for disinfecting your contact lenses. There are several brands and formulas to choose from, and not all are best for dry eyes.
Your optometrist can recommend contact solutions that best suit your unique eyes and add a boost of hydration.
Prevent Dry Eyes with Contact Lenses
Caring for your contact lenses is essential for hygiene and comfort. Your optometrist will educate you on the rules of contact lens wearing and tips to help your contact lenses last. The directions might include the following:
Wear your contacts for only the length of time your optometrist recommends
Don't nap or sleep in your contact lenses
Assess your lenses for particles and buildup before inserting them
Don't use water in the place of contact solution
Rinse your contact lens case with contact solution periodically
Change your contact lens case every 3 months
Schedule Your Eye Exam & Contact Lens Fitting
A comprehensive eye examination allows you to discuss your eye health concerns and get an updated prescription for clearer vision. Westmount Optometrists carry popular frames to help you show off your personality and an on-site optical laboratory to get your new glasses on your eyes faster.
Book an appointment for eye exams for your whole family and let our trusted team care for your eyes. We have two locations to serve you in Ontario: London and Glencoe.